Suns from Sunsets from Flickr, 2006 - ongoing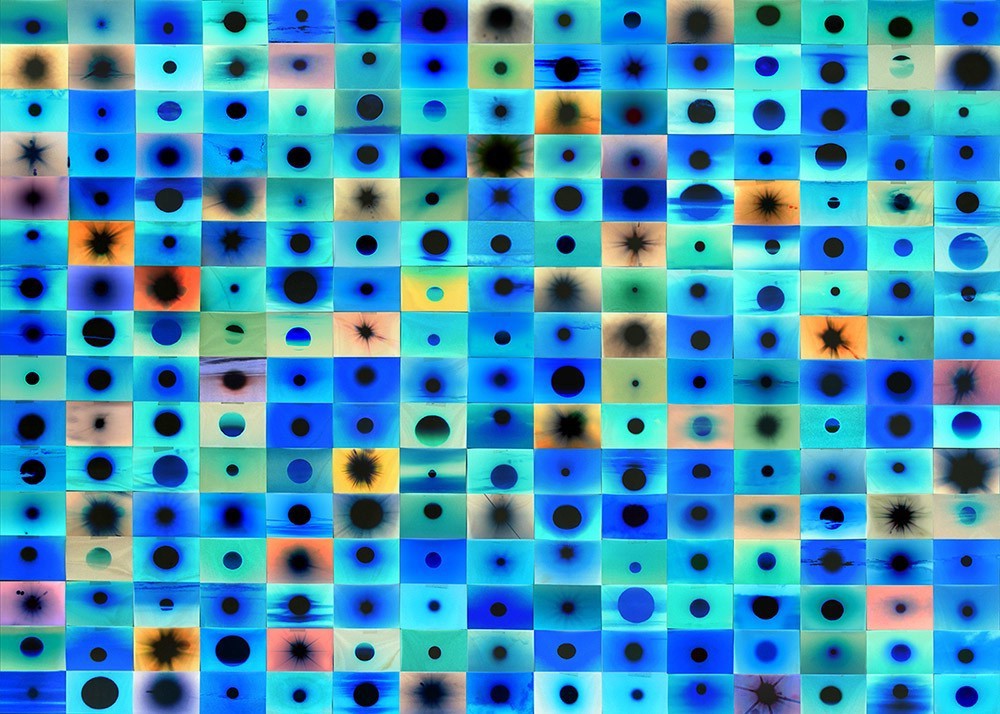 541,795 Suns from Sunsets from Flickr (Partial) 1/23/06, 2006
Detail of 2000 machine c-prints, each 4 x 6 in
 

2,303,057 Suns from Sunsets from Flickr (Partial) 09/25/07, 2007
2,000 chromogenic machine prints
Each 4 x 6 in
Installation view at Gallery of Modern Art, Brisbane, Australia 2007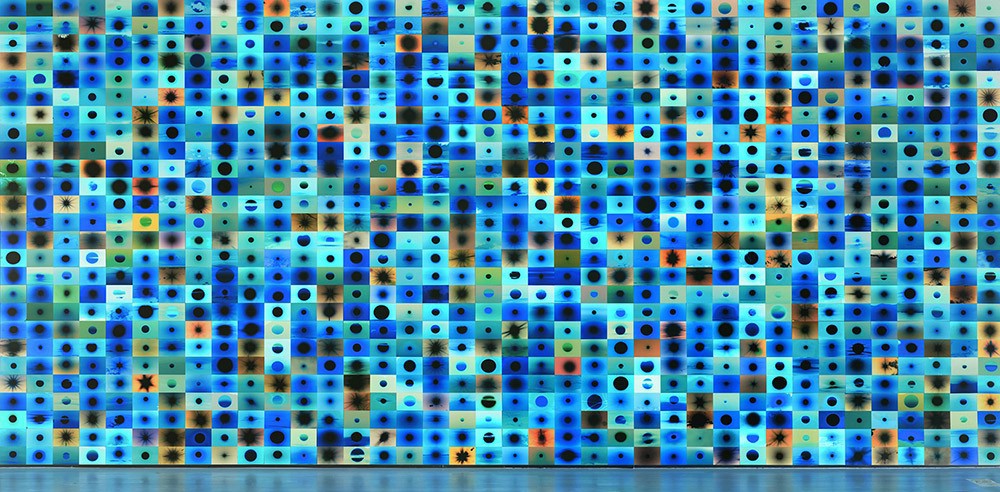 5,377,183 Suns from Sunsets from Flickr (Partial) 4/28/09
, 2009
1,440 chromogenic machine prints
Each 4 x 6 in
Installation view at SFMOMA, San Francisco, 2009    
8,146,774 Suns from Sunsets from Flickr (Partial) 10/15/10
, 2010
192 chromogenic machine prints
Each 4 x 6 in
Installation view at Museum of Contemporary Photography, Chicago, 2010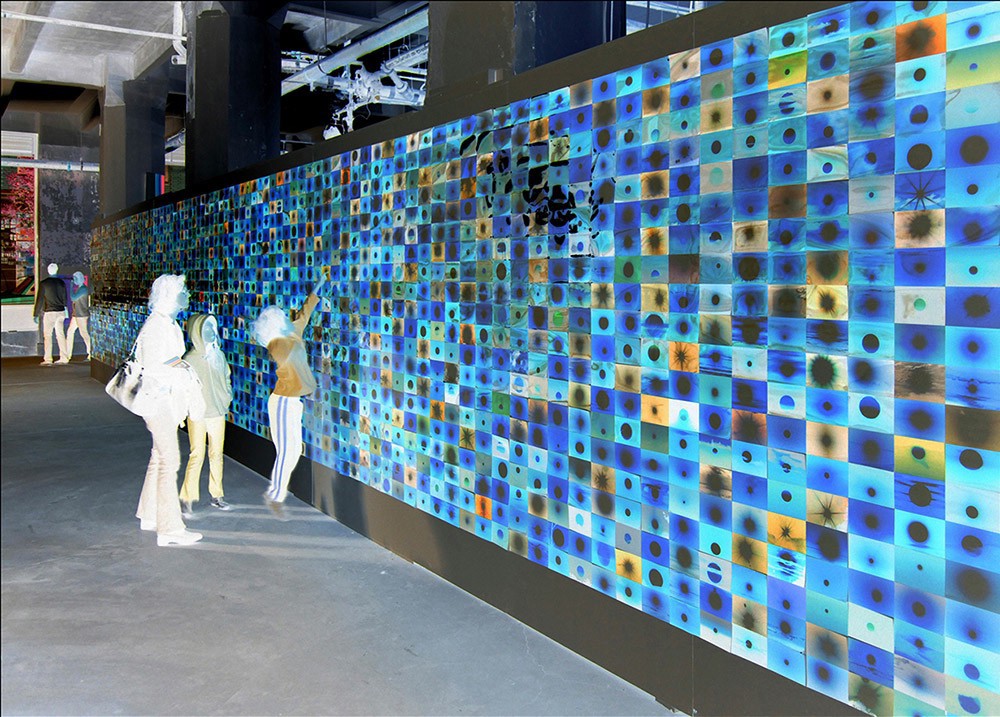 3,221,717 Suns from Sunsets from Flickr (Partial) 03/31/08
, 2010
2,024 chromogenic machine prints
Each 4 x 6 in
Installation view at New York Photo Festival, New York, 2008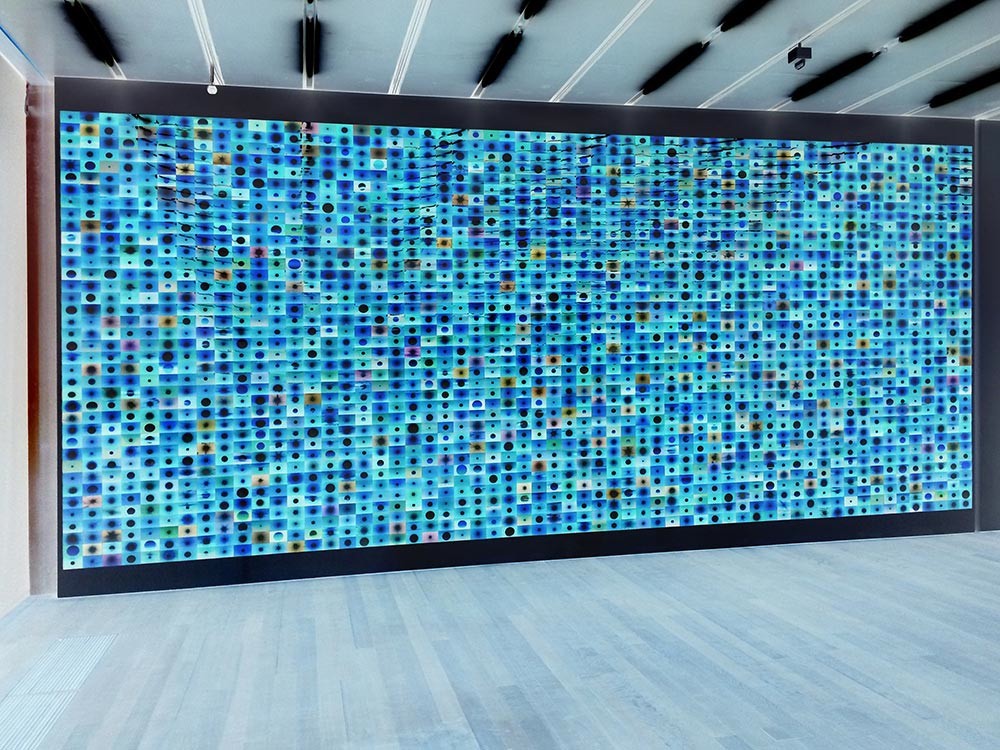 28,534,323 Suns from Sunsets from Flickr (Partial) 08/03/15
, 2015
2,360 chromogenic machine prints
Each 4 x 6 in
Installation view at Perez Art Museum, Miami, 2015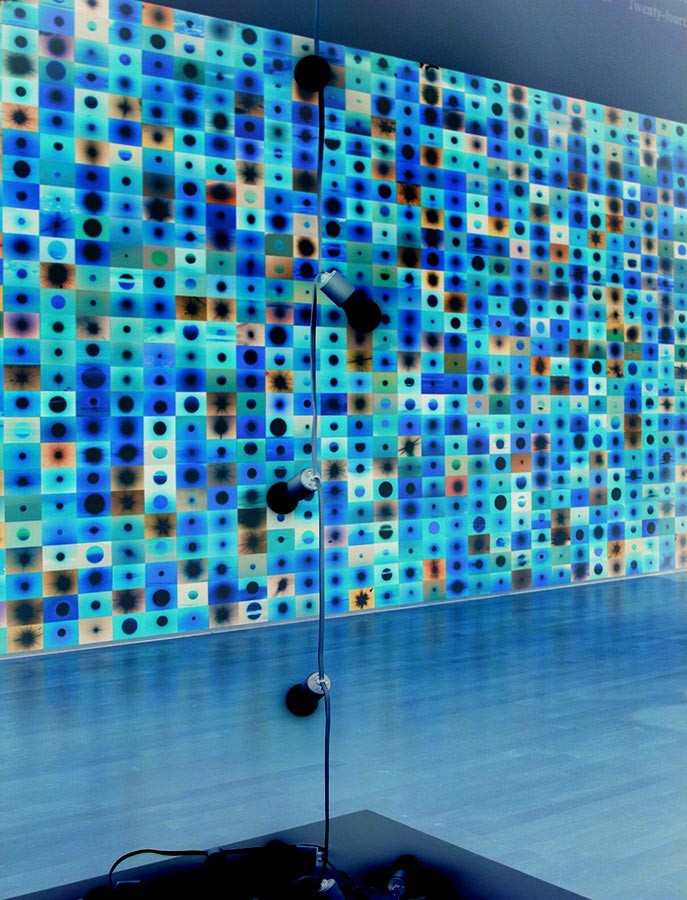 5,377,183 Suns from Sunsets from Flickr (Partial) 04/28/09
(with Felix Gonzalez-Torres in the foreground), 2009
988 chromogenic machine prints
Each 4 x 6 in
Installation view at SFMOMA, San Francisco, 2009    
I began the project Suns from Sunsets from Flickr in 2006 when, looking for the most photographed subject, I searched the photo-sharing website Flickr and found "sunsets" to be the most present (tagged) resulting in 541,795 in 2006 hits. I thought it peculiar that the sun, the quintessential giver of life and warmth, constant in our lives, symbol of enlightenment, spirituality, eternity, all things unreachable and ephemeral, omnipotent provider of optimism and vitamin D… and so ubiquitously photographed, is now subsumed to the internet – this warm singular object made multiple in the electronic space of the web, and viewed within the cool light of the screen.
I collected those sunsets from Flickr that had the most defined suns in them, and cropped just the suns from these images. To date, I have made a total of 4500 4x6 images of suns from these sunsets, which I upload to consumer photo-labs to be printed as 4" x 6" machine c-prints. For each installation the title reflects the number of hits I get searching "sunset" on Flickr at the time of installation– for example the first installation was 541,795 Suns from Sunsets from Flickr (Partial) 01/23/06 in 2006; a year later: 2,303,057 Suns from Sunsets from Flickr (Partial) 09/25/07 - the (Partial) in the title refers to the fact that the installation is only a fragment of the number of sunsets on Flickr at that time. Examples of subsequent installation titles:  
     541,795 Suns (from Sunsets) from Flickr (Partial) 01/23/06
  2,303,057 Suns (from Sunsets) from Flickr (Partial) 09/25/07
  3,221,717 Suns (from Sunsets) from Flickr (Partial) 03/31/08
  5,911,253 Suns (from Sunsets) from Flickr (Partial) 08/03/09
  7,626,056 Suns (from Sunsets) from Flickr (Partial) 07/17/10
  8,730,221 Suns (from Sunsets) from Flickr (Partial) 02/20/11
10,291,373 Suns (from Sunsets) from Flickr (Partial) 01/12/12
13,806,070 Suns (from Sunsets) from Flickr (Partial) 11/01/13
18,297,350 Suns (from Sunsets) from Flickr (Partial) 04/16/14
21,314,840 Suns (from Sunsets) from Flickr (Partial) 05/14/14
27,709,969 Suns (from Sunsets) from Flickr (Partial) 05/05/15
27,694,473 Suns (from Sunsets) from Flickr (Partial) 05/11/15
30,240,577 Suns (from Sunsets) from Flickr (Partial) 03/04/16
 

… the title itself becoming a comment on the ever increasing use of web-based photo communities and a reflection of the collective content there. And since this number only lasts an instant, its recording is analogous to the act of photographing the sunset itself.
Perhaps part of the beauty of taking a picture of a sunset is that while you are doing it it's likely that a million other people are doing it as well – at exactly the same time. I love this idea of collective practice, something we all engage in despite any artistic concern, knowing that there have been millions before and there will be millions after. While the intent of photographing a sunset may be to capture something ephemeral or to assert an individual subjective point of view–the result is quite the opposite - through the technology of our common cameras we experience the power of millions of synoptic views, all shared the same way, at the same moment. To claim individual authorship while photographing a sunset is to disengage from this collective practice and therefor negate a large part of why capturing a sunset is so irresistible in the first place.
 
Documentation of installations of Suns from Sunsets from Flickr with people taking their pictures in front of it.
Whether by cognitive association, or the result of a perceptual adaptation to images, our irises involuntarily contract when looking at images of the sun in a similar way they do looking at the actual sun. Perhaps there's a similar physiological response to the visual warmth of the images that is analogous to the actual warmth of the sun. Whatever the case, it turns out that people want their pictures taken in front of it, as though they are in front of the sunset itself.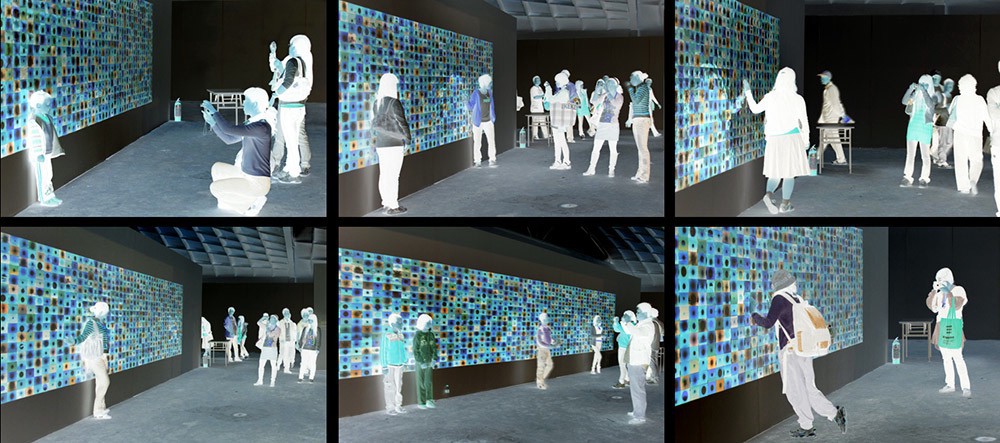 Installation views at Pingyao Photography Festival, Pingyao, China, 2009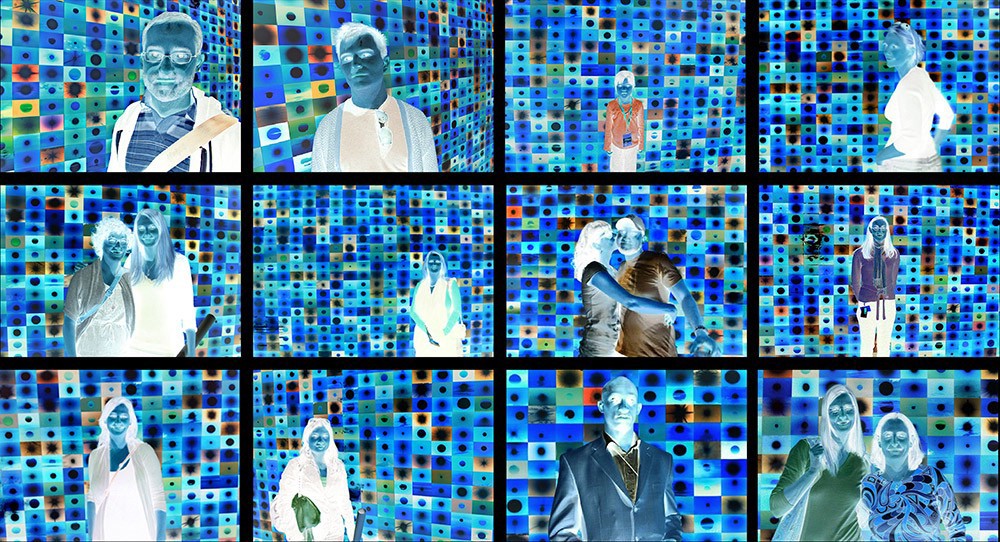 Some pictures I have found (mostly on Flickr) of people taking their pictures in front of my installations (as if the sunset itself), 2009 - 2014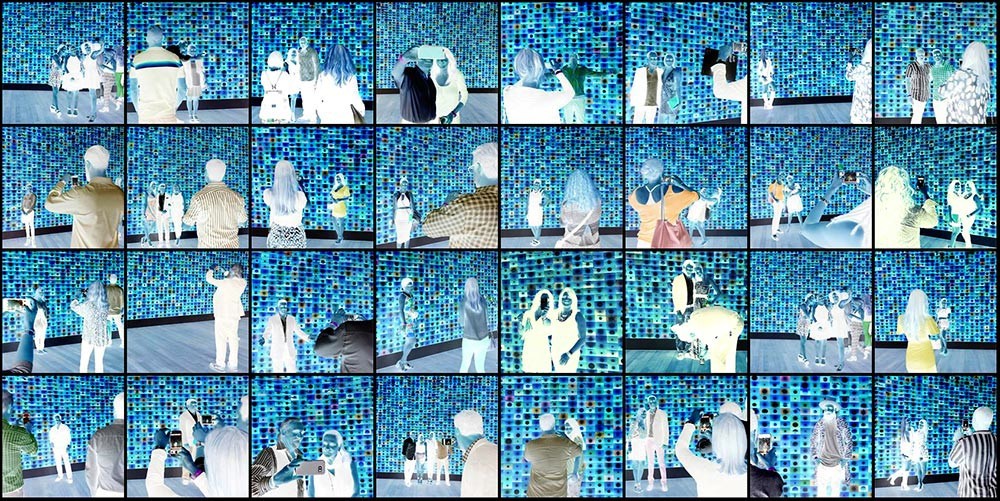 Some pictures I have taken and found (on Instagram) of people taking selfies in front of my installations at the Perez Art Museum, Miami, 2015 - 2016
 
Suns from Sunsets from Flickr / Airmail, 2009 - ongoing
Suns from Sunsets from Flickr / Airmail is a collection of left-over "sun" photographs from installations that I have asked curators, friends, colleagues, visitors to mail to me as postcards – the digitally sourced "sun" physically travels through the skies via airmail, crossing countries and borders, and registers on its surface a record of time and place, beginning and end, of its destination.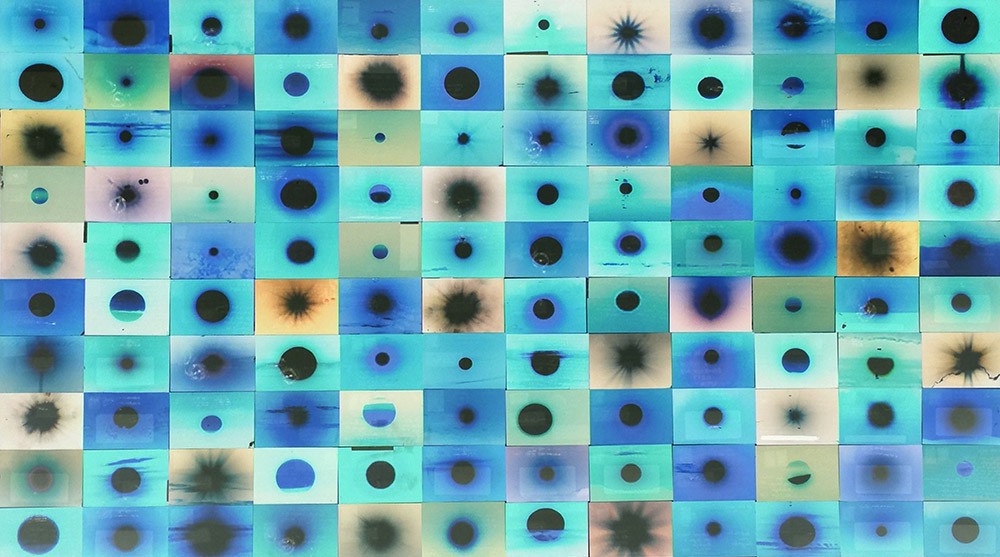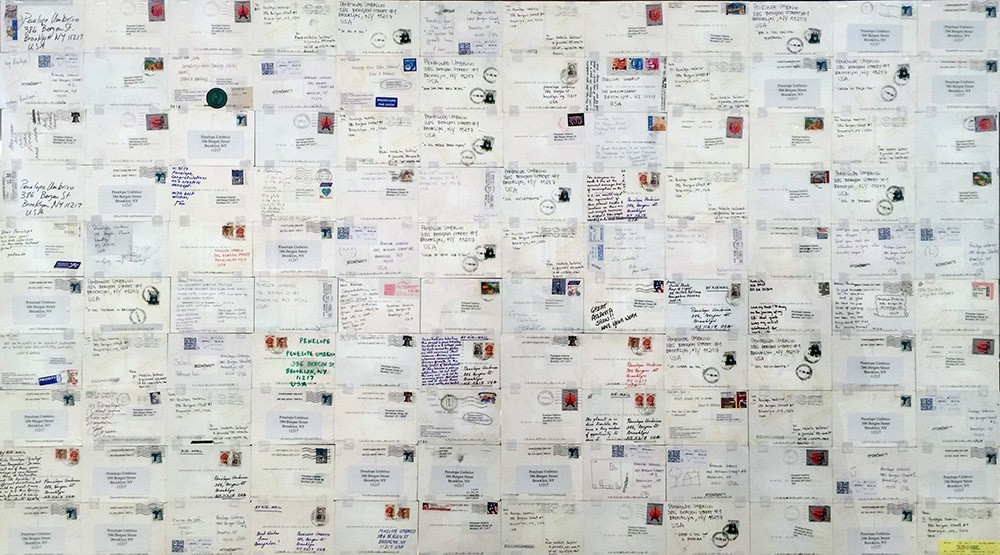 Suns from Sunsets from Flickr / Airmail, 2009 - ongoing
Machine c-prints, postage stamps, ink from postal stamp
Each 4" x 6"
Installation, Milwaukee Art Museum, 2016
  
 
Copyrighted Suns / Screengrabs, 2009-2012
Copyrighted Suns / Screengrabs questions the claim of ownership of an image of something that is essentially un-possess-able. I cropped the suns from images of sunsets on stock photography websites that had a 'watermark' running through them. I used the descriptive tags of each of the stock images as the titles of each of my cropped 'watermarked' suns. The words summarize the collective narratives we weave around it's setting, and also indicate how much a fragment I am using from each image.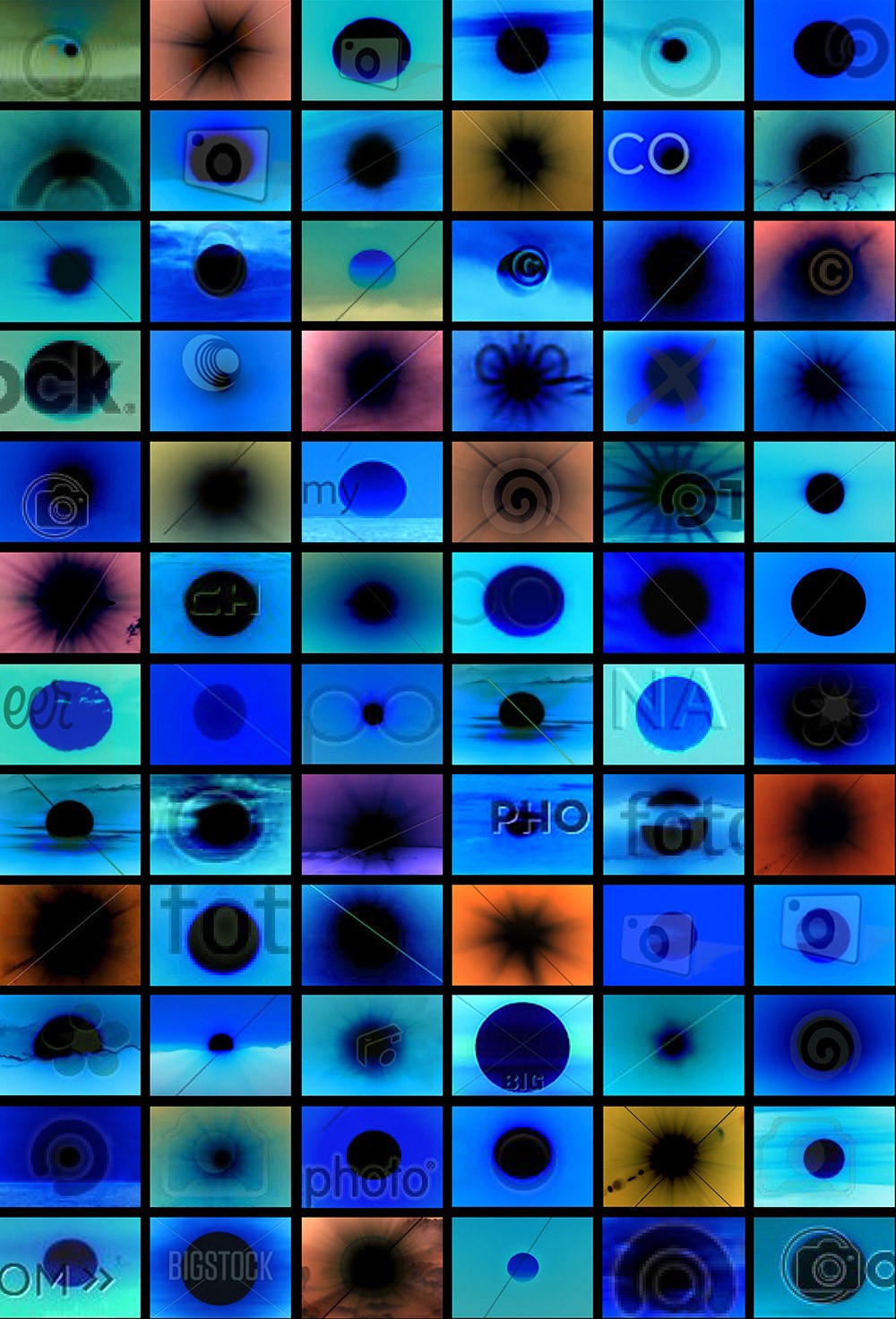 72 Copyrighted Suns / Screengrabs, 2009-2012
Digital c-prints
Each 5 x 7 in
 
A few titles:
Friends running together on beach at sunset
Young woman in straw hat sitting against tree at sunset
Smiling friends drinking cocktails on sunset
Beautiful sad young woman sitting outdoors near the river
A young girl is thinking in the outdoor, feel sad, at sunset
Luxury young attractive woman in pink bikini eating watermelon at beach sunset
Group of friends eating around table in mountain top field at sunset convertible off road vehicle parked in background
Sad girl at sunset
Lonely sunset girl
Group of young adults running into sea at sunset
A forlorn looking young girl with long red hair at sunset
Beautiful young woman running on a beach at sunset real shot background is not photoshopped in
Beautiful young couple relaxing near the sea at sunset
Beautiful young couple dancing tango on the beach at sunset
Beautiful couple embracing on the beach
Couple on dock hugging and watching sun set over lake
Couple at beach smiling and looking at each other with love, leisure red beach emotions feelings water
Couple kissing during sunset at the beach
Couple man and woman in love standing on beach seaside
Young couple on beach at sunset man carrying woman in arms
Young couple sitting on bow of white yacht enjoying some snacks and champagne at sunset
Couple toasting with champagne over dinner at sunset
Candlelight picnic on beach with couple playing in ocean at sunset
Two glasses of champagne and beautiful Sunset
Romantic couple holding hands at sunset on beach, dream holiday
Loving couple walks hand-in-hand on the beach with a beautiful sunset
Young couple in silhouette kissing with beach sunset background
Couple in love enjoying beach with woman embracing man
Couple drinking wine in the sunset by the sea
Couple relaxing with glass of wine while watching sunset at the beach
Honeymoon couple watching sunset at the beach
Happy and young pregnant couple hugging at sunset
The pregnant girl with a hat in the field of wheat on a sunset
Side view of sad pregnant woman looking at window, sunset, expecting
Pregnant woman holding belly against sunset sunlight
Pregnant woman holding her belly in the field at sunset
Pregnant woman holding her tummy at the beach during sunset
Pregnant woman glowing and holding her belly at sunset
A pregnant woman holding her belly and looking away at sunset, thoughtfully
Young pregnant woman standing in sea holding tummy at sunset
Pregnant woman dancing in the field at sunset
Nicely decorated dinner table on sandy beach at sunset
Family watching sunset over ocean from convertible on beach
A father putting his arm around his son at sunset
Family of three enjoys the sunset silhouette
A father and son play lovingly in a tropical swimming pool at sunset.
Woman looking into the sunset from a boat, travel, bedtime, emotions, feelings
Romantic middle aged couple drinking wine at sunset
Senior couple toasting champagne and looking into one another's eyes against a golden sunset
Happy senior man and woman couple dancing and holding hands on a deserted tropical beach at sunrise or sunset
Man with dog at sunset
Mixed race woman jumping in mid-air on beach at sunset
Successful woman jumping on sunset in beach, freedom and happiness concept, celebrating work-out success
Man on top of mountain at sunset, conceptual scene
A man silhouetted against an evening sky appears to be holding the setting sun in the palm of his hand
Man thinking at sunset with straw in his mouth
Man sitting contemplating life at sunset
Silhouette of a man contemplating eternity before the setting sun
Woman running off into the sunset
Young woman with eyes closed and sunset in background, meditation under sunset zen concept
Alone man in the desert at the sunset
Lonely man standing on landscape at sunset
Man hugging knees on beach at sunset
Tired and weaken man on all fours with gold sunset sun disk
Man standing or sinking in the sea with waves and a sky at sunset
Senior man in a sofa while televisions are falling from the sky at sunset.
Female in white dress stands at window during sunset time with longing expression
Depressed looking male sitting in a field with an orange sunset background
Older man at sunset thinking about his future
Mature couple looking into the distance on the beach at s¬¬unset
A man holding a glass of wine sits alone at a table for two set up on a beach at sunset
Elderly woman sitting at the table with bottle of white wine outdoors at sunset
For Neverending Sunset (Second Life) (2011), I made a video capture of my computer screen while on the web platform Second Life. There, the scripted sunset environment can be forced regardless of "IRL" time, so one can have an the infinitely streaming "sunset", with a never setting sun.
 


Neverending Sunset (SL), 2014
Single-channel digital video
41 sec excerpt from 24 hr  
 

Sun/Screen (2014), comprises photographs of images of the sun (the original light source) that I cropped from thousands of sunset images shared on the web. I gathered the images into a single 'slideshow', each image slowly dissolving into the next. As the 'slides' progress, the varying resolution/pixel grid of each image is superimposed on another, resulting in a constantly shifting moiré pattern. This well-known moiré phenomenon is further amplified by videoing the slideshow with my iPhone. Here, the image sensor on the iPhone conflicts with the resolution of the computer monitor and the pixel grid of the images, creating a single sun dissolving into and out of the screen.
Sun/Screen, draws attention to the materiality of the screen and further distance us from the natural sunlight source of the original images. It is a meditation on simulated light activated to produce images of natural light derived from digital images found online of a natural light source (the sun) it is a dialogue between analogue and digital; natural and simulated; surface and screen; projection and reception.
 


Sun/Screen, 2014
Single-channel digital video
46 sec excerpt from 35 min
Sun Burn (Screensaver) (2008), is comprised of 365 images from my project Suns from Flickr complied into an animation, and then converted into a screensaver. As a screensaver, the implied danger of burning a whole into your screen is, in fact, not a real threat: the longevity of our newer screens is no longer effected by intense of light or form in one place. Current screensavers function purely for entertainment and distraction, and in fact they use more energy than if the computer were allowed to just go to sleep.
 


Sunburn (Screen Saver), 2008
Screensaver